So here we go.
Merlyn's 1st Annual Costume Contest begins May 1st and 2nd.
Here's the deal:
Come in with a great costume any time we are open on May 1st or 2nd.
(That would be 10am - 9pm on Saturday / 10am - 7pm on Sunday)
Stick around and have your picture taken with the 501st or just some kids who think your cool!
We'll take a photo of you.
After we close on Sunday night, the staff at Merlyns, who have extensive knowledge on costumes by going to Cons and being in the 501st, will judge all the entries and decide the winner.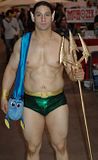 Winner will receive a
$10 gift certificate
, good for anything in the store plus
get your photo on our website for a full week
to impress your friends.
There will be a gift certificate for one Adult AND one child! So anyone can enter as long as they're in costume.
(And no, we're not falling for "I'm dressed as a comic book fan" costume. Not again.)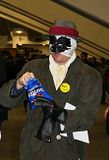 Please nothing too gory or "adult".
So come on down dressed up, get your photo taken and have a great time!