Two years ago, Pulitzer Prize winner Chris Hedges and award-winning cartoonist and journalist Joe Sacco set out to take a look at the sacrifice zones, those areas in America that have been offered up for exploitation in the name of profit, progress, and technological advancement. They wanted to show in words and drawings what life looks like in places where the marketplace rules without constraints, where human beings and the natural world are used and then discarded to maximize profit.
Days of Destruction, Days of Revolt
is the searing account of their travels.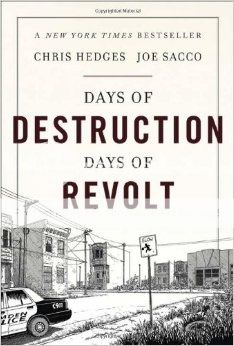 The book starts in the western plains, where Native Americans were sacrificed in the giddy race for land and empire. It moves to the old manufacturing centers and coal fields that fueled the industrial revolution, but now lie depleted and in decay. It follows the steady downward spiral of American labor into the nation's produce fields and ends in Zuccotti Park where a new generation revolts against a corporate state that has handed to the young an economic, political, cultural and environmental catastrophe.
From the dusty plains of North Dakota to the coal-veined hills of West Virginia to the desolate and ravaged streets of Camden N.J., Pulitzer Prize winner Chris Hedges and award-winning cartoonist/journalist Joe Sacco introduce us to the nation's "sacrifice zones"--those regions where, in the authors' view, corporate greed has run wild, and the locals have suffered. A unique mashup of investigative journalism, man-on-the-street reportage, graphic novel, and anti-corporate manifesto, the result is a riveting and often chilling account of America's forgotten zones. The balance between Hedges' narrative nonfiction storytelling and Sacco's intimate and very human sketches is surprisingly effective. And the stark depictions (both written and visual) of abandoned coal mines and empty downtowns and crumbling houses are heartbreaking, as are the stories of people struggling to survive. This is a special and important book. --Neal Thompson
This is an important book for those seeking something else besides capes and tights and at 10% off, how can you pass it up?
Here is a Youtube link for an interview with the writer about why he chose this theme and more about the book.