Fans of Axis & Allies,...oh heck, fans of WWII games in general, have reason to be excited. The latest Axis & Allies variant has arrived -
Axis & Allies: Europe 1940.
A larger than normal game board (35" x 32"), featuring
only
the European and African theaters, allows for significantly more detailed simulation of combat in those specific areas.
Here's the write-up from the back:
"The year is 1940. France is about to succumb to the unstoppable German armies blitzing through Western Europe. Italy's armies are poised to attack North Africa, Greece, and Southern France. What remains of the British army has recently evacuated Dunkirk. This island nation is about to find itself standing alone and bracing for an invasion that could come at any moment. The United States, separated from world conflicts by two great oceans, remains neutral for the moment. The Soviet Union has concluded a secret agreement with Germany, assuring that it will remain neutral should Germany go to war in Europe. These are trying times, but all of this is merely a prelude to the greatest conflict in human history.

As an Axis power, you will plan, build, and maneuver your mighty fleets of ships and aircraft in your effort to dominate the world. When the time is right, you will enter into direct military confrontations with the mightiest economic powers on earth, attempting to cripple them before they can thwart your plans.

As one of the Allied powers, you will come together with your allies in the recognized need for a common defense. To succeed, you will need to take charge of your economic, political, and military might, because you'll be challenged by the greatest land, sea, and air powers the world has ever seen.

Rewrite the story and leave your mark on history."

That ought to be more than enough to entice board game fans into hunting down this epic game.
BUT, there's more.
If you read posts here, you might recall back in December we got in copies of
Axis & Allies:
Pacific
1940.
You might remember that if you are ambitious enough to be able to buy both of the 1940 Axis & Allies games, you can actually
combine
them into a MASSIVE 70" x 32" global board game.
Here is a picture of someone who has already done that: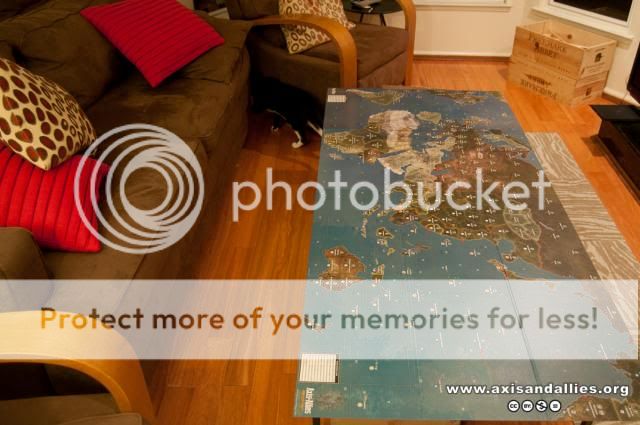 ...and a link to the stellar website from which we got this great picture.
www.google.com/imgres?...s%3Disch:1
If this looks cool to you (of course it does!), then I have to tell you that yes, as I am typing this, we have copies of
Axis & Allies: Europe 1940
and
Axis & Allies: Pacific 1940
currently available in the store.