A slew of new Games Workshop products have arrived this week and we wanted you to know all about them.
The Hobbit: An Unexpected Journey Strategy Battle Game
The Hobbit game comes with its own rulebook, starter box, Finecast blisters, and boxed sets of units.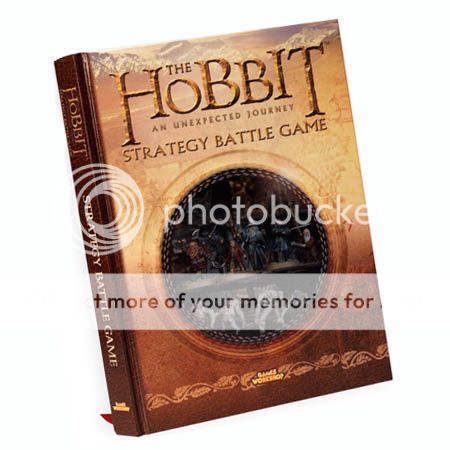 The Hobbit Rulebook, which retails for $84.99, includes not only the full rules, but also guides for beginning a collection, seven scenarios, and a gallery showcasing professionally painted figures from the collection.
Escape from Goblin Town
, the Limited Edition starter box, retails for $124.99. It includes the Goblin's King platform (the terrain piece setting for the battle), 56 miniatures (including Gandalf, Bilbo Baggins, Thorin Oakenshield, the Goblin King, and an exclusive Radagast the Brown), rules manual, play sheet, dice, and a ruler.
Goblin Town
is a separate terrain piece that can be bought independently of the starter. It retails for $59.99.
Boxed sets currently available include
The Trolls
(3 big trolls),
Hunter Orcs on Fell Wargs
(6 figures),
Goblin Warriors
(18 figures), and
Hunter Orcs
(12 figures). These retail for prices ranging from $34.99 to 84.99. There is also a Finecast boxed set of
The White Council
, which retails for $74.99.
Hobbit blisters currently in the store include
Fimbul the Hunter, Narzug, Bolg, and Goblin Captain
. These retail between $14.99 and 39.99.
Warhammer 40K
The Crusade of Fire Campaign Book, which sells for $40.99, has arrived. From the back:
"Inside you will find:

THE CRUSADE OF FIRE: A complete set of campaign rules for use with the Planetary Empires expansion.

BURNING SKIES: Expanded rules for Flyers in games of Warhammer 40,000, including rules for fighter aces, dogfights and new manoeuvres.

DAEMON WORLDS: New rules and a mission for fighting battles on the surface of a Daemon World, where the planet itself turns upon the combatants.

THE ARENA OF DEATH: Rules for playing games in the gladiatorial arenas of Commorragh, pitching heroic fighters against deadly beasts.

SCENARIOS: New multi-player scenarios for use in your games of Warhammer 40,000."
New 40K terrain pieces include
Imperial Defence Line, Imperial Bunker
, and an
Imperial Defence Emplacement
. These retail between $29.99 and 41.99.
__________________________________________________________