Christmas day is 10 days away, which means the next 9 days will be a flurry of gift shopping and wrapping!
Just in case anybody's interested, here's a list of 10 things that would make a great gift for a game store employee (or any gamer at all, I guess)!
1. Magic the Gathering Theros Holiday Box- All the fun of opening boosters, plus a promo and box that are only available for the holiday season! Get them before they're gone!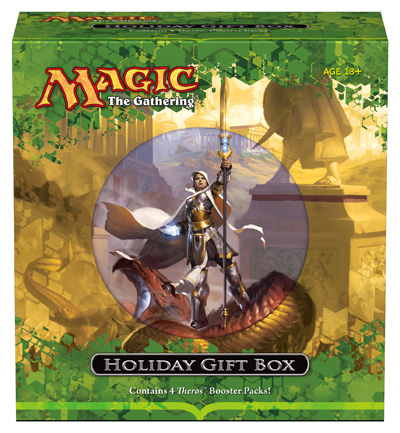 2. Smallworld- A great classic game, easy to learn for any age or experience level!
3. Iron Man Heroclix boosters- The newest set in the miniature game for comics fans! Featuring the Armored Avenger and his allies and foes, with a chance to open one of the 10 Rings of the Mandarin.
4.
Transmetropolitan
Volume 1, by Warren Ellis- Spider Jerusalem's adventures are a must-read!
5. Quarriors- Like deck building games? Check out a
dice
building game!
6. Eldritch Horror- All the fun of Arkham Horror, but in half the time!
7. Pathfinder Pawns Bestiary Box- Perfect for the DM on your list, most fantasy games can use these easy standup cutouts!
8. Necron Tesseract Vault/ Dark Eldar Cauldron of Blood- Both very cool models from GW that I'd love to have. Christmas is a great time to feed someone's miniatures addiction, but make sure you know which minis they are looking for! Try to say something subtle, like "Which warhammer minis did you want for Christmas, again?"
9. KOB Terrier Ironclad- Christmas is also a great time to get into a new minis game! This might not be a starter, but it would go great with my existing Kingdom of Britannia force!
10. Still can't decide? We do gift certificates in any amount! Let your friends and family pick out their own toys!