This in from
www.pastemagazine.com
about the king of explosions...
By Lindsay Eanet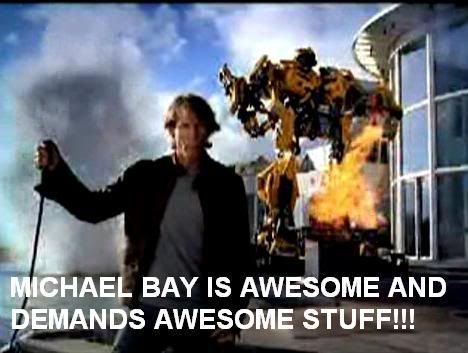 It seems as though Michael Bay will not stop until every beloved Saturday morning cartoon from the '80s is made into a live-action feature.
MTV reports that Michael Bay and Platinum Dunes Productions will be producing a live-action take on Teenage Mutant Ninja Turtles for Paramount Pictures. Bay is about to begin production on a third Transformers movie for Paramount as well.
The new live-action Turtles flick was first announced to the public in New York last spring during a 25th anniversary celebration for the animated series, although Peter Laird, co-creator of the artistically-named crime-fighting foursome, first confirmed rumors of the project back in fall 2008.
There have been several incarnations of the heroes in a half-shell (turtle power!) for the big screen. The first, 1990's Teenage Mutant Ninja Turtles, which featured the vocal talents of Corey Feldman and Robbie "Cousin Oliver" Rist, became a millennial cult classic (and also begat a sequel, which was in turn responsible for this). TMNT, the CGI-heavy 2007 take on the franchise, received mediocre reviews, but had a decent box-office showing.
We can't help but wonder if Bay will fulfill The Onion's prophecy and take on ThunderCats next. Megan Fox (Or, um, that Victoria's Secret gal…) could be Cheetara!