So some of you might have known that John and I went to SDCC, basically the mecca of geekdom.
If you're a geek, this is not the place to be shy. You let that geek flag fly and you let it fly high.
You can't be surprised if you see Captain America walking along with Superman and you can always expect to see at least 3 Slave Leia's walking around together.
But after the loud parties, costumed people and hours upon hours of walking, what did we LEARN?
Well, I learned that comics are still alive and kicking.
Down-loadable comics are coming, there's no stopping that. You couldn't if you tried and at a Diamond event, we learned that a lot retailers fear this is the end. One so much as yelling that they were "stealing our customers and cutting our throats".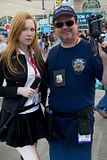 The people that will be providing the Apps for online comics were there to tell us that, we will be hosting the Apps on our website and people would still buy the physical version as well, most of the time.
This I believe. I've seen a couple of downloaded comics and I have to say, I'm not really impressed.
Gone are (or will be) the days of double page spreads that were so gorgeous.
Remember how in the Death of Superman, the panels got bigger and bigger until finally the splash page had the battle in Metropolis?
Well, that would be gone, replaced by simple one page panels on your small phone. (I won't get into Ipads only because very few of us have one. Until we ALL do, this is what you'll see.)
You can't hang an electronic picture on your wall.
You can't touch and hold a beautiful drawing by your favorite artist.
Here's a test. Go hold the Mona Lisa. I'll wait.
...
Here's a picture of me and comedian Jim Norton to look at for those who are still waiting.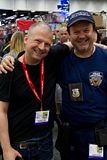 ...
You back yet?
Ok, now hold a picture on your phone or even iPad.
Not the same, is it?
Jonathan Hickman, writer of FF, said that he saw this as a waste of artists talent. You have to rethink how to tell a story because of the odd design.
DC and Marvel both had plenty of people mulling around their booths, but Marvel chose to devote 60% of their space to a giant Avengers backdrop, which was cool, but DC opened their booth up a little more and had more to look at.
Yes, they devoted about 30% of their space to DC video games, but it was BATMAN: ARKHAM CITY and it looked awesome.
And yes, they mentioned the DC 52.
If you don't know, DC is relaunching their books. All of them. Everything.
People are using this as a jumping off point, but some, those who still love comics and didn't read them just for the story but for everything, art, colors, story, characters, etc. They're staying and they should be glad.
I wasn't enthused for the change. I don't much like change but the more I see how DC is actually caring about these books, the better I feel.
They will be in 6 issue story arcs and if one starts to suck, it gets pulled. "Only the best will stay", they say.
Hickman paralleled it to Survivor in comics form. Only the best will make it. And he was EXCITED!
EXCITED.
A Marvel writer was excited to read DC's new stuff. That gives me hope that these will be worth the time to look at.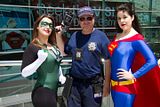 Yes, SDCC is going more the way of movies and TV, but without comics, most TV and movie writers are stuck writing something of their own and we've seen how that turns out most of the time.
(I'm looking at you writers of THE CAPE).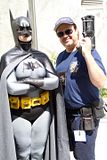 That's why I love SDCC so much. It's a place where heroes are. Where, for 5 days, you can shake Captain America's hand or get a picture with Power Girl.
It's where comics literally come to life.
That's why I say, when everything is said and done, comics WILL be here to stay. I'm certain of it. Whether electronic or still paper, stories must be told and heroes must be found.