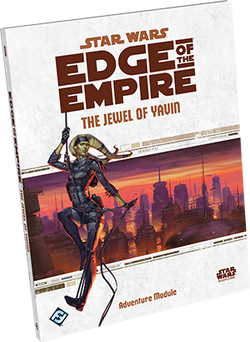 Scrape together a crew and prepare for the heist of a lifetime in The Jewel of Yavin, a ninety page adventure supplement for Star Wars®: Edge of the Empire™.
Set in Bespin's Cloud City, The Jewel of Yavin includes plenty of opportunities for all characters to shine as they work to steal the priceless corusca gem.
Game Masters will find the Cloud City gazetteer section especially useful, both for running The Jewel of Yavin adventure and for basing their own Edge of the Empire campaigns on the floating city.
During the adventure, the Player Characters are hired by a local Pantoran crime boss to steal the "unstealable" Jewel of Yavin, a brilliant corusca gem—not once, but twice. Corusca gems are mined deep in the gas layers of Yavin Prime and are used throughout the galaxy in decorations and heavy industry. Legends say they can also serve as the focusing crystal in lightsabers. Either way, they are worth more than enough to help a down-on-their-luck crew pay down some Obligation or purchase a brand new starship.
So fly on down here at get this great expansion for
10% off retail!