Okay, this is a long story, but I think it's worth telling.
Back in the early 90s, I met my good friend Chris S. through an ad he posted at Merlyn's; selling his services to paint 25mm D&D minis. At the time I was convinced that I couldn't paint, and so I hired Chris to do up some characters for my campaign, and we became fast friends as a result. I met with him often to play D&D, video games, and Magic The Gathering (at the time, I was obsessed with the latter).
One card in particular was called "Elvish Archers." It became my favorite card. . .for pretty much the art alone:
www.wizards.com/magic/...rs_640.jpg
I don't know why, it just clicked with me. The dude featured on the card looked like my idea of the most bad-ass elf fighter I could possibly imagine. I mean, elves are kewl to begin with, but this guy looked like a rock star. I liked the card so much that I made him into a D&D character, min/maxing him only in archery specialization and pretty much nothing else.
Then one day, I was hanging out at Merlyn's, and I noticed they had produced some miniatures based on Magic The Gathering. To my surprise and delight,
one of those minis was Elvish Archers
! It was beautiful, and a faithful representation of the card art.
But I couldn't buy it. 😢
The MTG line of minis that included Elvish Archers was 28mm scale. At the time I only collected 25mm, and so MTG minis were the wrong size for the campaign I was playing. The mini would have been WAY out of proportion with all the other PCs in the dungeon. Disappointed, I left it on the peg, walked away, and made myself forget all about it.
Fast-forward 22 years later.
A couple weeks ago, I was at work talking with my co-worker Jen, who had a son that played MTG (omg, they're STILL playing it). She was mostly supportive of her son's habit, and so I told her the story about my fave old card, yadda-yadda. . .
THEN LIKE A BOLT FROM THE BLUE IT HIT MEH!
In the years since then, the 28mm scale had become the DEFAULT SCALE for miniatures! I suddenly remembered the MTG miniatures! AND I had recently learned how to paint
I left Jen's office with a brief explanation. As I rushed out the door, she was all, "FOLLOW YOUR DREAM BABY LOL!" I ordered the mini right away. Had it fully painted only a couple of days later.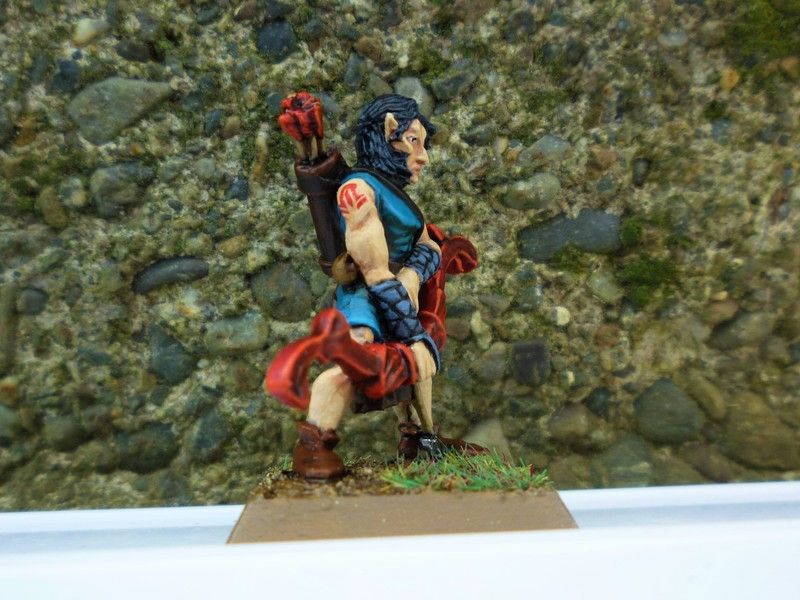 Much happy. Very closure.
-PJ