We have a big selection of Mini-Mates, the cool little figures (that usually come in a 4 pack) that you can easily set up somewhere in your office and screw with your co-workers minds'.
They get missed because, well, they're small, but we have plenty.


From Gothic horror like Dracula and the Wolfman..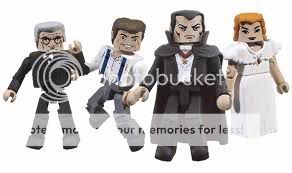 to X-Men.

And of course,

GHOSTBUSTERS!


Can you name the episode these spectral Ghostbusters came from?

We also have plenty of ghosts for your Mini-Busters to fight...

So remember, come down, buy some Mini-Mates and set up a little war in your office cubicle that your co-workers won't even understand!

You could even screw with their minds with some Femme Fatale's.
(Merlyn's is not responsible for any "not safe for work" positions you use these for to, again, screw with your co-workers minds.)